Improving water quality from source to sea
Water pollution due to chemicals, excess nutrient loads, microplastics and pathogens form a risk for human and ecosystem health. For instance, it is estimated annually that between 19 and 23 million tonnes of plastic waste enter our rivers, lakes and oceans worldwide. Taking effective measures to improve water quality is not straightforward. It is expected that the Netherlands will not realize the legal objectives of the Water Framework Directive to improve the water quality in 2027, with the current policy.
Improving water quality with a 'source to sea' approach
Deltares advertises a systems approach to assess water quality and pollution 'from source to sea', which includes the causes and sources that generate the pollution in the assessment. By integrating our technical expertise with socio-economic information, we identify effective solutions that bring action perspective for the client. Deltares is for instance using a source to sea framework to assess plastic pollution, encompassing the full journey from its origin (plastic leakages from land-based sources), to the transport pathways (e.g. via rivers, incorporating hydrology) and finally the inputs and state of pollution in the sea.
To model these plastic flows in a holistic and realistic way, we make use of a variety of analytical methodologies and tools, such as material flow analysis, and Deltares' hydrological, transport and emission models (Figure 1). The results of the source to sea analysis of plastic waste discharges in Indonesia were published in 2021 as a World Bank report. In 2021, Deltares has started the application of this framework in the development of the Integrated Marine Litter Assessment for the European Environmental Agency. This will allow for a better evaluation of how different European policies are articulated to effectively prevent and deal with plastic pollution.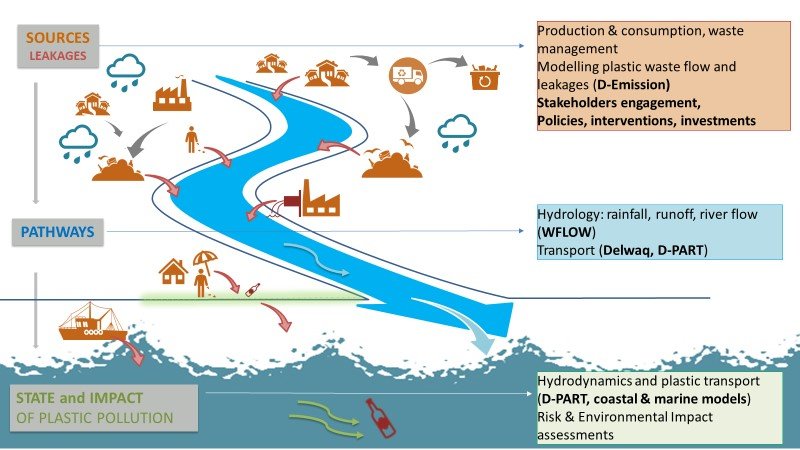 'By integrating local waste data from communities across Indonesia with hydrological conditions, the study Plastic Waste Discharges from Rivers and Coastlines in Indonesia creates deeper insights into the ways our behaviors, actions and infrastructure on land contribute to the plastic waste in our oceans.'
Nani Hendiarti, Deputy of Environment and Forestry Management, Coordinating Indonesian Ministry for Maritime Affairs and Investment
Developing knowledge to identify fate and health risks of micro-plastics
To gather new data on water quality, we have developed monitoring tools and are using our experimental facilities such as the plastic soup facility and the geochemical and microbiological lab. Deltares uses DNA sequencing techniques for instance to investigate the development of biofilm on microplastics from our plastic soup factory. These experiments give our partners and us better insight in micro-organisms that take down plastics and with which enzymes. We study if microplastics carry pathogens or antibiotic resistance that may harm our health. This knowledge contributes to the Plastic Research Agenda of our national government (MOMENTUM).
Integrating knowledge into tools to support partners implementing water quality policies
We combine the monitoring data with satellite images to model water quality, to run scenarios to forecast future changes in the marine and inland water ecosystem and to assess different solutions to reduce pollution. With this knowledge and these tools Deltares supports the development and implementation of European water quality policies (Water Framework Directive, Marine Framework Directive, Natura 2000). For example, in the Program Water Quality Knowledge Impulse Deltares works together with the research institutes KWR, RIVM, WEnR and TNO to gain insight on the drivers that affect water quality.
Deltares is coordinator of the tracks 'Ecology of brackish waters' and 'ground water'. The up-to-date information that is being used by the water authorities to apply the knowledge in their policies and for the implementation of the Water Framework Directive. The Dutch farmers association ZLTO has incorporated the knowledge from the Water Quality Knowledge Impulse in their own tool 'BedrijfsBodemWaterPlan' that is used by farmers to help them with sustainable use of their soil and water resources. Fact sheets have been developed to facilitate the uptake of new knowledge and tools by local water authorities.
Realizing impact
With these activities and outcomes, Deltares and partners aim to contribute to improving water quality worldwide. By making the new knowledge available and the source-to-sea approach, monitoring techniques, models and tools applicable, we help governments, water authorities and other stakeholders to reduce pollution, restore ecosystems and reduce water-related health risks.